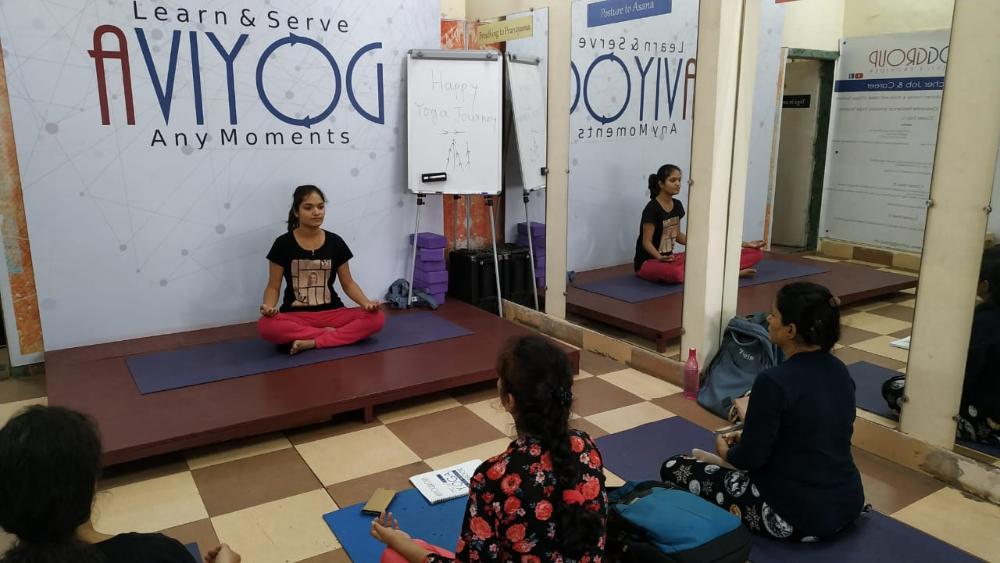 100 Hours Yoga Teacher Training
Full PostPaid Training enroll with Rs.0 & Committed Salary Rs.25000 / Month
Teaching is not a profession; it's a way of life. And when Yoga is being taught, it comes out of unadulterated compassion and will to serve others! AVIYOG GROUP gives you the opportunity to become an excellent trainer & serve others right under the guidance of Yoga experts.
This course is suitable for teaching yoga to school students and healthy young adults and old persons with therapy yoga etc.
The One Month YTTC covers theoretical and practical aspects of Yoga. The syllabus consists of Asanas, Pranayamas, Kriyas & meditation with their related benefits, limitations and contraindications, methodology and lesson planning, public speaking, diet and yoga hygiene. Sessions in essential Anatomy & Physiology (awareness of all the medical systems of the human body) and study of selected Yoga Sutras are part of the curriculum.
The faculty consists of experienced teachers.
Self-Study / Therapy Yoga Teacher training give knowledge in Patanjali Yoga, Hatha Yoga, Ashtanga Yoga, Traditional Yoga, Power Yoga, Iyengar Yoga & Pre/Post Natal Yoga with Aviyog (Yoga) in any Moments.

In one line we can say "The Yoga of Self-Study with awareness of Self (God) - ultimate"
This teacher training course is for whom,
Note: No need of any knowledge to attend the course..
Yoga Studio - Commitment:
If you know about Yoga, you also known with Once "what is Yoga?" understand then its practiced & experienced & explored for more with self-study. We are committing to make you able to self-study with your own after this course. No need of education(more training unless no need of specialization) just progress after course.
We also offer free training session and support after course.
Yoga Certification - Duration
Batchs Timing:
Yoga Teacher Training Course
Days /Time

Upcoming Batch




Next Batch

 

1 Month

7:00 am to 11:00 am

6 Mar 2019

-
1 Month 
Monday to Saturday


01:00 pm to 5:00 pm




  13 Mar 2019

 -
10 Sundays
8:00 am to 1:00 pm

 -
 -
Yoga Certification - Fees Offer 2019 (Enroll with Rs. 0) Hurry Up! Register Limited Seat
Take Post Paid 100 Hour Teacher Training Course (Learn & Serve) with 100% Job.
Note: Don't miss use this option as for 1 time only.
* means Be Regular & Do your Best !
Committed Salary Rs.25000 / Month
Please note:
Payments can be made online. or by an account payee cheque drawn in favour of 'AVIYOG GROUP'.
For enquiries on Yoga Teacher Training Course you may SMS us (or drop a message on WhatsApp) at +919029966660 or email us at info@aviyoggroup.in
YOGA TEACHER TRAINING IN LOKHANDWALA KANDIVALI EAST, MUMBAI - 400101
Why to take TTC from AVIYOG GROUP ?
Teaches Yoga in any Moments (Not only on mat). After Yoga taught its comes to serve others (Job) which is offered by best career.
Yes, As we make independent Yoga Teacher from where you can grow by Self.
Can 1-Month TTC is enough duration to learn ?

Yes, As its very fundamental to become Self-Study Yoga Teacher.
Yes, Sessions covered in semi english as per students capability or understanding level.
Yes, As its explored TTC in everyway.
What is different in AVIYOG GROUP TTC or Others TTC ?
AVIYOG GROUP TTC includes Yoga in any Moments not only on mat, Fundamentally explored in every way to become Self-Study Yoga Teacher, No need to take further training to grow unless requirement of specialization certifications. Others TTC may teach only some concept or philosophy or even just fix set of practices like Pranayama, Asana and Meditation.
Yes, Fundamentally covere the therapy yoga by which you can solve any issues not only of health but also of life.
Is this TTC include various style or types of Yoga ?

Yes, As told its fundamental from where you can understand any type or style like Hatha Yoga, Ashtanga Yoga, Patanjali Yoga, Iyengar Yoga, Power Yoga, Hot Yoga etc.
Ashtanga Yoga - Patanjali Yoga ( God Father of Yoga ).
What is the uses of AVIYOG GROUP TTC ?

Become Personal Yoga Teacher to serve others (
Job
), Self Yoga Teacher to serve Self for not only therapy but also life treatments like Study, Job, Career, Business, Relationship etc.
What can I hope for new in this TTC ?

Understand the "GOD", "LIFE" & "ULTIMATE GOAL".
Can I take training without pre payment ?
Yes, We have Post Paid Training, So enroll with Rs.0.
Can I go for QCI after this TTC?
Yes, After exploring syllabus. For more information QCI (
Quality Council of India) at ISO level examination held to keep track of quality of Yoga teacher by recurring

surveillance Exam.